What Is Somatic Psychotherapy?
Somatic means of the body or related to the body, so this modality is also known as body psychotherapy or body-oriented psychotherapy. This approach stems from the knowledge that the mind and body function together, as one.
There is no separation between body and psyche; therefore, working with the body is a key component of psychological healing. Because everyone has a body, somatic approaches are appropriate for addressing all issues, including chronic pain, relationship issues, low self-confidence, anxiety, depression, stress and, especially, trauma.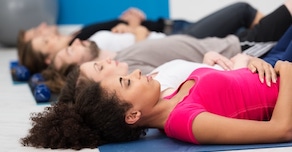 Somatic therapy honors the innate wisdom of your body, as well as the wisdom of the mind. It is a holistic approach in that it presumes that mind, body and spirit are one and aims to help all three work together cohesively. When their connection is honored, mind, body and spirit can naturally move toward healing and growth.
Body-oriented practices help you attune to your physical sensations, calm racing thoughts, integrate your experience, process difficult emotions and open to the inherent healing nature of the body. There are a wide variety of practices available, including yoga, embodied movement and dance, psychotherapeutic touch and meditation, to name a few.
There are also many types of body-oriented therapy. Research into somatic healing's specific branches, such as Hakomi, Internal Family Systems, Somatic Experiencing and Dance Movement Therapy, validates its effectiveness in helping people build resilience and improve their lives.
Why Body-Oriented Psychotherapy Works
 Traditional talk therapy attempts to heal emotional wounds cognitively—through the mind alone. But, your deeply held beliefs about your purpose and worth did not form logically. Nor did anxiety, depression, trauma (especially pre-verbal developmental trauma) and so many other painful psychological issues.
If experiences of hurt and distress were solely cognitive, then you could talk yourself out of them. Of course, as many people who've struggled with looping worry and heavy sadness know, it's not quite that simple.
The mind can help you understand the linear events of the past and how they influenced you. Conversation can help you identify necessary steps toward the future. However, talking about issues does not help you sequence through the deep wounding keeping you stuck. That wounding is held in the psyche and also in the body.
The body never lies. While the mind can perpetuate beliefs and behaviors that don't align with your authentic self—thereby causing ongoing confusion, isolation and frustration—the body is the seat of your intuition and deep wisdom. It has a voice, which speaks through subtle and not-so-subtle changes in physical sensations. Attunement to those bodily sensations can offer a barometer for your emotional and psychological state.
For example, when you are anxious, it's likely that your muscles tense and your heart races even before you are consciously aware of that anxiety. If you feel sad, your shoulders may sag. Headaches or abdominal distress may be telling you that your boundaries are being crossed, or that your lifestyle isn't serving you. If a sensation feels alarming, it might be just that—an alarm, drawing your attention to something that's not right.
Likewise, the body has an effect on mental health. To see this in action, try sitting hunched over for five minutes, with a frown and downcast eyes. Then, straighten up and smile for a few minutes. You will likely notice your mood shifting with your posture. So, physical alignment and physical health can play a huge role in our emotional, psychological and spiritual wellbeing.
Somatic therapy works because there is no separation between what happens in your psyche-spirit and what happens in your body. As a somatic clinician, I understand that you do not only process life experiences cognitively. Your past isn't only held in conscious memories, and wounding isn't primarily located in the logical brain. Both are equally located within the lived experience of the body and spirit.
Therefore, true healing also must happen at a level deeper than logic.
Some Somatic Techniques
Through mindful embodiment in the present moment, you can dive deeper than your conscious mind to access the root of your suffering.
There are many effective that can help you safely attune to physical sensations , understand what they are communicating and relieve distress. Breathing, grounding, healing touch therapy, strength training, hiking, meditation and mindfulness and/or dance and movement are just a few incredibly valuable somatic exercises.
In session, too, I will take note of your somatic cues, as bringing awareness to the body unlocks new avenues toward understanding and healing. For example, I might notice that you are clenching your hand as you are speaking. We might mindfully explore the origin of that gesture and what it is expressing. Our bodies will often express parts of ourselves that our mind may be unaware of or attempting to keep underground. The body is a useful doorway to making the unconscious conscious, which is the only way to begin to make positive changes in your life.
No matter what you're struggling with, your body has a wise language all its own. You can learn how to understand what your body is saying to you. Then, you can make choices based not in wounding, but in wholeness.
The Importance Of Touch In Healing
Somatic approaches may include therapeutic touch. Although it can be uncomfortable and unfamiliar at first, touch's importance in psychological and spiritual wellbeing cannot be understated.
Infants who are not sufficiently touched do not thrive and have significantly higher incidents of death, poor mental functioning and physical, emotional and developmental delays. Adults suffer from touch deprivation as well. Touch can offer comfort and healing because it balances your nervous system (the biological system that moderates the level of chill out to freak out). For example, when someone hugs you or holds your wrists, your heartrate decreases and your worries calm.
This is why the deliberate use of touch in therapy is extremely effective. It helps those with anxiety and trauma related symptoms, as well as individuals who suffer from low self-esteem. For people with a history of sexual abuse, eating disorders, exercise addiction, loneliness or mistrust, touch can create openings for confident, secure and healthy connections.
That said, touch is not appropriate for all clients, nor is it a requirement for body-inclusive therapies. You will never be touched without your consent, and your physical boundaries will always be honored.
My Approach To Somatic Psychotherapy
Touch was an important element in my own trauma recovery, which led me to become a massage therapist in my 20s. As I began working with the body's healing potential, I witnessed, again and again, how clients experienced emotional release through touch.
As I was often working with people's pain and trauma, I recognized the ethical and practical need for further education, which is why I enrolled in Naropa University, a respected Buddhist influenced private university. There, I received my master's in Somatic Counseling Psychology with a dual emphasis in Body Psychotherapy and Dance/Movement Therapy.
Today, I am a somatic therapist and an expert in psychotherapeutic touch who provides training to other mental health providers. I also hold advanced certification in Internal Family Systems, which includes tracking physicals sensations as they relate to the hidden emotions and neglected parts that crave loving attention.
All my work integrates Western clinical training and holistic therapies, and body-oriented psychotherapy plays a huge role in my practice. I offer diagnoses for insurance purposes, but I do not view you, or any part of you, as a "problem." I trust in your innate wisdom. I will help you to trust it too.
I also believe in the strength and wisdom of your Greater Self. You have everything you need to unpack and process unhelpful patterns and discover a new path forward. A somatic approach can help you embrace the fullness of your mind, body and spirit so you can live the life you want.
Honor Your Intuition
I invite you to call me at 702-762-4100 for a free 20-minute phone consultation. You can ask me any questions about somatic psychotherapy and my practice in Henderson, NV or Las Vegas, NV.
Feel free to also ask about somatic-based group therapy, including Somatic Meditation and Authentic Movement.
And, please download my free report, "Moving from Freak out to Chill Out," which can help you get out of your head, tune into your body and soothe overwhelm
RESOURCES: