What Are Mindfulness And Meditation?
Mindfulness is a state of compassionate awareness, grounded in the present moment. It is a way to be attuned with yourself, others and the world, without judgment.
When in a mindful state, you notice and welcome thoughts, feelings and sensations as they arise. You bear witness to your internal and external experience without labeling it "good" or "bad." And, you see your thoughts and emotions as just that—thoughts and emotions, with no power to define or control you.
When mindfulness is the goal, meditation is one of the practices that can cultivate it. Throughout centuries, people have used meditative techniques to calm the body and help the mind rest in a soft, quiet, peaceful state.
Although these practices exist across cultures and faith traditions, and are similar to some forms of prayer, they are primarily rooted in Eastern religious practices. In the 1960s, the Buddhist monk Chögyam Trungpa was a major figure in bringing meditative approaches to the West. In the late 1970s, Jon Kabat-Zinn, who holds a Ph.D. in molecular biology, combined Buddhist teachings and scientific research to create a non-religious program called mindfulness-based stress reduction (MBSR). Countless others followed his lead. Now, there is a plethora of research demonstrating the immense psychological benefits of practicing mindfulness.
What Are The Benefits Of Mindfulness?
Meditating regularly to cultivate mindfulness has been shown to change the brain in meaningful ways. This indicates you are not destined to continue in your suffering. You have the power to find lasting relief from a wide range of symptoms, without medication. In fact, meditating for just 15-20 minutes a day can have a dramatic impact on your overall well-being.
Mindfulness can help you:
Respond rather than react, even in moments of distress
Reduce stress and overwhelm
Enjoy a sense of balance and calm
Find relief from symptoms of depression and anxiety
Develop greater self-awareness and self-confidence
Offer kindness and compassion to yourself and others
Enhance focus and productivity
Manage pain and connect with your body
Reduce blood pressure and improve heart health
Sleep soundly
Feel empowered to create the life you want
To learn more about the benefits of mindfulness, click here.
It's important to note that neither mindfulness nor mediation "treat" disorders. They are helpful tools to reduce stress symptoms and improve overall wellbeing. If you struggle with a mental health disorder, your symptoms are not your fault. No matter how much you meditate, there will still be moments when life feels hard. This is true for everyone, and it doesn't mean you are "meditating incorrectly" or "not meditating enough."
Mindfulness should never be something you feel bad at or pressured to achieve. No one is perfectly mindful all the time—that's why we call this inner work a "practice." Growth occurs within the process.
How Does Meditation Work?
When most people picture meditating, they often imagine someone sitting in lotus (cross legged position). But there are a wide variety of meditative techniques that can be categorized in a wide variety of ways.
Broadly, those categories are:
Spiritual (techniques from religious and spiritual traditions, intended to connect you to a higher, expanded consciousness and a Greater Source)
Mindfulness (observing internal experiences without attachment)
Self-inquiry (mindfully exploring internal responses to a topic)
Movement (physical practices, such as tai chi, yoga, embodied movement)
Sensate Focused (focusing on one of the five senses)
Visualization (creating images in your mind's eye)
Chanting (use of repetitive sounds to still the mind)
Connective Practices (to increase authentic connection with others)
Each technique has nuances, and you might find some address your challenges more effectively than others. I have been practicing meditative techniques for over 30 years, and I can help you discover which practices are best suited to your personality, needs and goals.
Regardless of the specific form, mindfulness exercises are powerful. Once you learn how to meditate, you can more frequently soothe distress and restore a sense of inner equilibrium. Even one minute can shift your experience from chaos to calm—in fact, I often start clients with one-minute practices. If you wish them to be, the mindfulness skills you develop in therapy can be yours for a lifetime.
It is both my personal and professional experience that therapy without a mindfulness-based approach has limited success. On the other side of the coin, mindfulness-based practices that aren't supported by psychotherapeutic expertise can soften symptoms, but do not generally cure underlying wounds. Working with a therapist who is an expert in both mindfulness and psychology can lead to full, enduring healing.
My Approach To Mindfulness-Based Therapy
In my teens, I struggled with the painful effects of trauma. In an attempt to feel better and "work on myself," I began practicing yoga and meditating. I quickly found some relief and began navigating the world with greater ease. Although mindfulness did not address my deepest wounding, it brought me the peace and empowerment needed to pursue greater healing.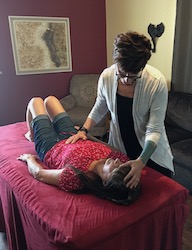 Since then, I have explored a variety of meditative techniques and traditions, including Maitri (loving-kindness) and Tonglen, which both help cultivate compassion toward the self and others. In most of my work, I focus on somatic, body-centered approaches to cultivating mindfulness (in fact, I previously worked as a yoga instructor). Deliberate stillness in the body invites deliberate stillness in the mind.
For example, Breathwork, an effective technique, uses slow, deep breathing to regulate the nervous system and calm heightened emotions. And, by grounding in your body and attuning to your physical sensations, it's possible to discover the deep well of innate wisdom that exists below your conscious awareness. Tapping into this wisdom allows you to heal and thrive.
Mindfulness therapy supports all of the work I do, including anxiety therapy, depression therapy and trauma therapy. Once you have the tools to release distress and find calm, it becomes easier to engage in therapy and address challenges at the root. Mindfulness is the first step toward lasting relief.
Live Fully In The Present
I invite you to call me at (303) 955-8945 for a free 20-minute phone consultation. You can ask me any questions about mindfulness and meditation and my practice in Henderson, NV or Las Vegas, NV.
I occasionally teach groups, so please take a look at the Events page to learn more. I also offer private teachings for groups and organizations. You can find more information on the Training and Education page.
Resources